Mornings, Mon – Sat 06:00 AM – 10:00 AM

Studio: 804-345-7625  |  Cell: 804-505-0262   |   Email
The latest…
My friends at the Law Tigers are giving away a motorcycle at Sturgis RIGHT NOW… check it out!

---
A little about me…
My love affair with classic rock began with 3 albums that I stole from my older brother when I was a kid… AC/DC's Dirty Deeds, Black Sabbath's We Sold Our Soul For Rock N Roll and Twisted Sister's Stay Hungry. I wore those records out and they're still my favorite to this day. Now I spend my time teaching my 4-year-old son early lessons in rock and roll so that he can help this music last forever. I'm a proud Mechanicsvillian and VCU grad (Go Rams!) and starting working at 96.5 as a senior in college. When I'm not in the studio or with my family, you can find me on 2 wheels going wherever my Honda Shadow VT1100 wants to take me, or playing guitar and drums a little louder than my neighbors would like.
---
Personal Favorites:
Favorite Band: AC/DC
Favorite Song: Who Made Who (love Maximum Overdrive!)
Favorite Interviews so far: Don Shula, James Labrie
Favorite Movie: Lord of the Rings (yes, the trilogy counts as one)
Favorite Book: Do comic books count? If so, The Killing Joke by Alan Moore
Favorite Video Game: Skyrim
Favorite Food: Thin crust crunchy pizza
Favorite Hobbies: Guitar, Drums, Songwriting, Hiking trails, particularly Cold Harbor Park in Mechanicsville
Favorite Quote: "Anyone that looks at life as anything more than pure entertainment is missing the point." -George Carlin
---
Talking Shop with Billy D Podcast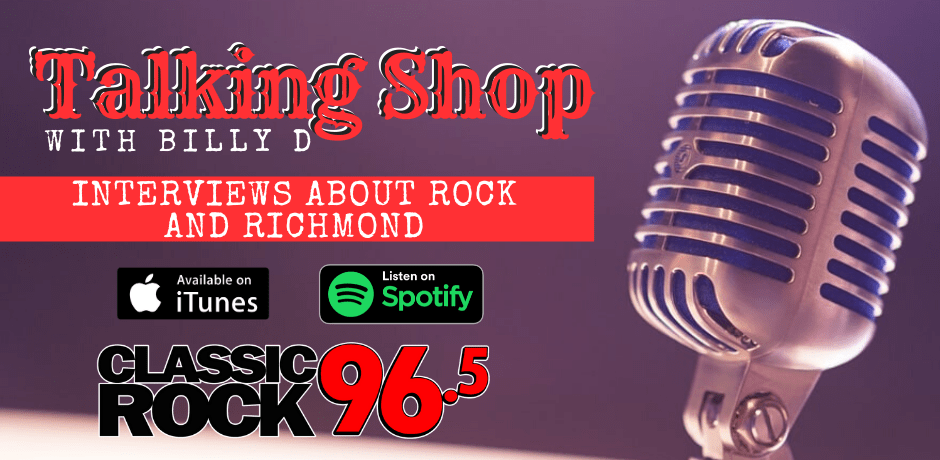 I'm so lucky to get to speak to legends in rock and in our own community. Check out my latest interviews below!
---