Shiver in the River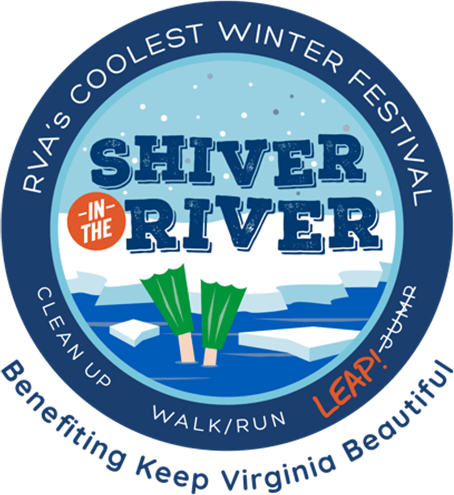 Choose Your Challenge!
You can clean up, walk/run, or jump in the James River — or do all three! You and your family can participate in as much or as little as you want, and you can form teams challenging your family, friends and co-workers.
Community Cleanup
Shiver in the River will start with a cleanup along the banks of the James River and in communities throughout RVA. Picking up litter and recyclables is at the very heart of Keep Virginia Beautiful's mission.
5K Walk/Run
Enjoy the beauty of the James River with a bit of exercise. Our improved route for the 5K is a single loop that includes the views of downtown, natural areas and crosses the new Potterfield Memorial Bridge.
James River Jump
The highlight of Shiver in the River is the James River Jump! This fundraising Jump will take place along the chilly banks of the James near Historic Tredegar. Participants must raise a minimum of $75.
Schedule of Events
Friday, February 28, 2020
Optional Registration/Packet Pickup – Tredegar | 3:00 – 6:00 pm
Saturday, February 29, 2020
Registration Begins | 9:30am | Runs Until Each Perspective Event
Community & Self-Directed Cleanups | 10:00am
5K Walk/Run | 12:00pm
James River Jump | 1:30pm
Winter Festival | 11:00am-4:00pm
Stay Warm and Donate!
You don't have to jump in the river to participate in Shiver in the River! You can register to donate $25 and we'll send you a pair of warm knit gloves to show your support for Keep Virginia Beautiful!