Richmond Folk Festival
October 11, 2019

-

October 13, 2019
Event Navigation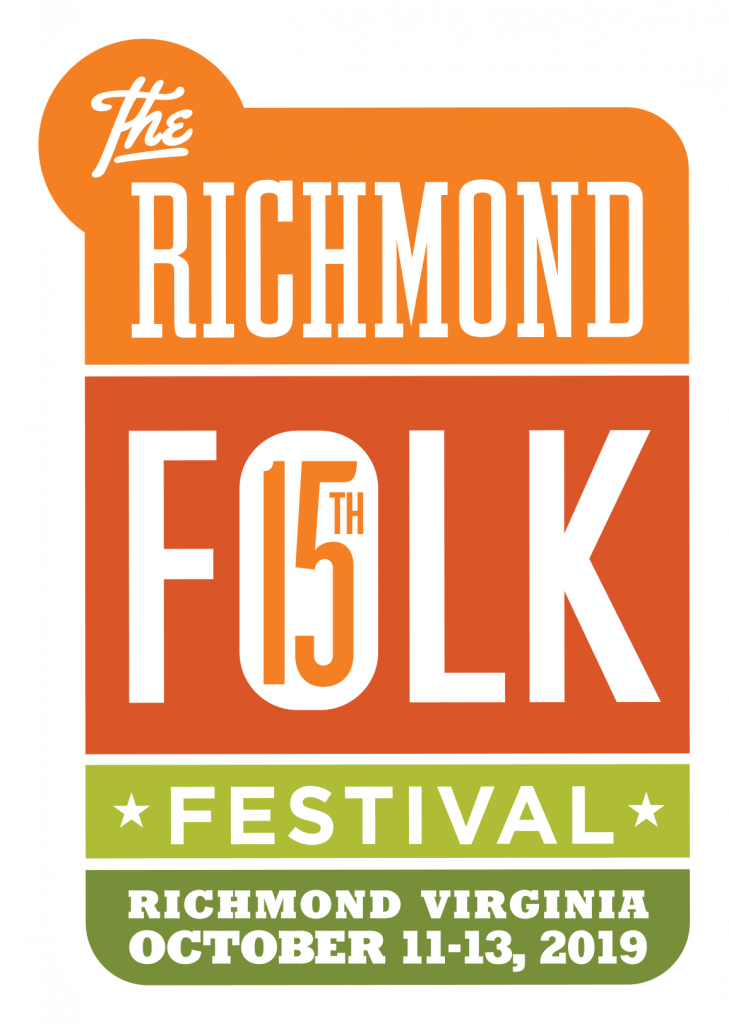 The Richmond Folk Festival is one of Virginia's largest events, drawing visitors from all over the country to downtown Richmond's historic riverfront. The Festival is a FREE three-day event that got its start as the National Council for the Traditional Arts' National Folk Festival, held in Richmond from 2005-2007. The Richmond Folk Festival features performing groups representing a diverse array of cultural traditions on seven stages.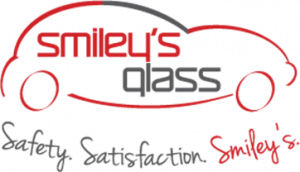 Volunteer Registration is now open!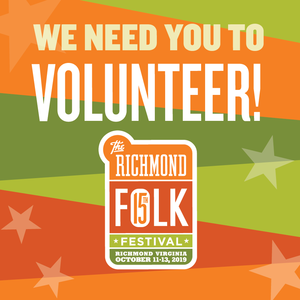 The Richmond Folk Festival offers a variety of exciting volunteer areas. In 2018, more than 1,300 volunteers joined in the effort to make the Richmond Folk Festival such a success – don't miss out on your chance this year.
The Festival is a wonderful place for civic, school, church and office organizations to volunteer. Please email Jamie Thomas, Volunteer Coordinator, at jamierichmondfolkfest@gmail.com to learn more about group volunteer opportunities.  Please note: All school sponsored groups must have at least one faculty or adult member as the group's lead contact present at the Festival.
Please see below for job descriptions then use our online form to sign up. You will receive an automatic email confirmation of your application.  Job assignments will be emailed this summer.
TAKE THE VOLUNTEER CHALLENGE!
New this year, when you sign up a group of 4 or more for a beer-truck or donation bucket shift, you'll be rewarded with fun swag when you check in to volunteer!
Friday, October 11, 6 PM – 10:00 PM
Saturday, October 12, Noon – 9:30 PM
Sunday, October 13, Noon – 6:00 PM
* Sign Language Interpreted Performances
Missing a day at the festival? VPM will broadcast live from the Altria Stage – Friday 7:00 – 10:00, Saturday 12:00 – 5:00, and Sunday 12:00 – 6:00. (Look for VPM next to the performances below)
Friday, October 11
ALTRIA STAGE
COSTAR STAGE
COMMUNITY FOUNDATION STAGE
DOMINION ENERGY DANCE PAVILION
Saturday, October 12
ALTRIA STAGE
COSTAR STAGE
COMMUNITY FOUNDATION STAGE
DOMINION ENERGY DANCE PAVILION
CAPITAL ONE STAGE
CARMAX FAMILY STAGE
 RICHMOND TIMES-DISPATCH VIRGINIA FOLKLIFE STAGE
STREET PERFORMANCE AT TREDEGAR PLAZA
Sunday, October 13
ALTRIA STAGE
COSTAR STAGE
12:00 – 12:45           CASYM Steel Orchestra (steel pan orchestra)

1:00 – 2:00                Rhythm Masters—A. P. Joseph, Nazier Massri (Aleppo Ensemble);  Okyerema Asante (Plunky & the Oneness of Juju); Kevin Doyle, Donna Long; members of CASYM Steel Orchestra; Ravi Iyer (Saraswathi Ranganathan)

2:15 – 3:00                Iberi Choir (Georgian polyphonic singing)

3:15 – 4:00                Saraswathi Ranganathan (Carnatic veena)

4:15 – 5:00                Petroloukas Halkias & Vasilis Kostas (traditional music from Epirus)

5:15 – 6:00                Native Pride Dancers (powwow dance traditions)
COMMUNITY FOUNDATION STAGE
12:00 – 12:45           The Garifuna Collective (Garifuna)

1:00 – 1:45                Panfilo's Güera (Tejano conjunto fiddle)

2:00 – 2:45                Family Prayers: Family Gospel Traditions in the South—Almeta Ingram-Miller, Cheryl Maroney Yancey, Carrie Jackson (Legendary Ingramettes); Mangum & Company*

3:00 – 3:45                Stax Music Academy Alumni Band (Memphis soul)*

4:00 – 5:00                Global Voices: Asia to the Americas—Conjunto Guantanamo, Faraj Abyad (Aleppo Ensemble), Huun Huur Tu, Iberi Choir, Riley Baugus

5:15 – 6:00                Aleppo Ensemble (Aleppian wasla music and whirling dervish dance from Syria)
DOMINION ENERGY DANCE PAVILION
CAPITAL ONE STAGE
12:15 – 1:00             Huun Huur Tu (Tuvan throat-singing)

1:15 – 2:00                It Takes Two: Dynamic Duos—Balla Kouyaté & Famoro Dioubaté, Petroloukas Halkias & Vasilis Kostas, Saraswathi & Ganapathi Ranganathan

2:15 – 3:00                Riley Baugus (Appalachian songs and ballads)*

3:15 – 4:00                Kevin Doyle & Friends (Irish step dance & music)

4:15 – 5:00                Panfilo's Güera (Tejano conjunto fiddle)

5:15 – 6:00                Balla Kouyaté & Famoro Dioubaté (balafon masters)
CARMAX FAMILY STAGE
12:30 – 1:15             Harry Gore (presented by JAMinc)

1:30 – 2:00                Jeghetto (puppetry)

2:15 – 3:00                Powwow Dance with Native Pride Dancers (powwow dance traditions)

3:15 – 4:00                Endah Laras & Danis Sugiyanto feat. Rumput (presented by JAMinc)

4:00 – 4:10                Junior Ranger Swearing-In

4:15 – 4:45                Jeghetto (puppetry)
 RICHMOND TIMES-DISPATCH VIRGINIA FOLKLIFE STAGE